Concrete fireplaces have become increasingly popular for their versatility and durability in recent years. Not only do they add a unique touch of style to any living space, but they also provide warmth and comfort during those chilly nights.
In this article, we explore the latest concrete fireplace designs and share our plan for incorporating a concrete fireplace into our new build.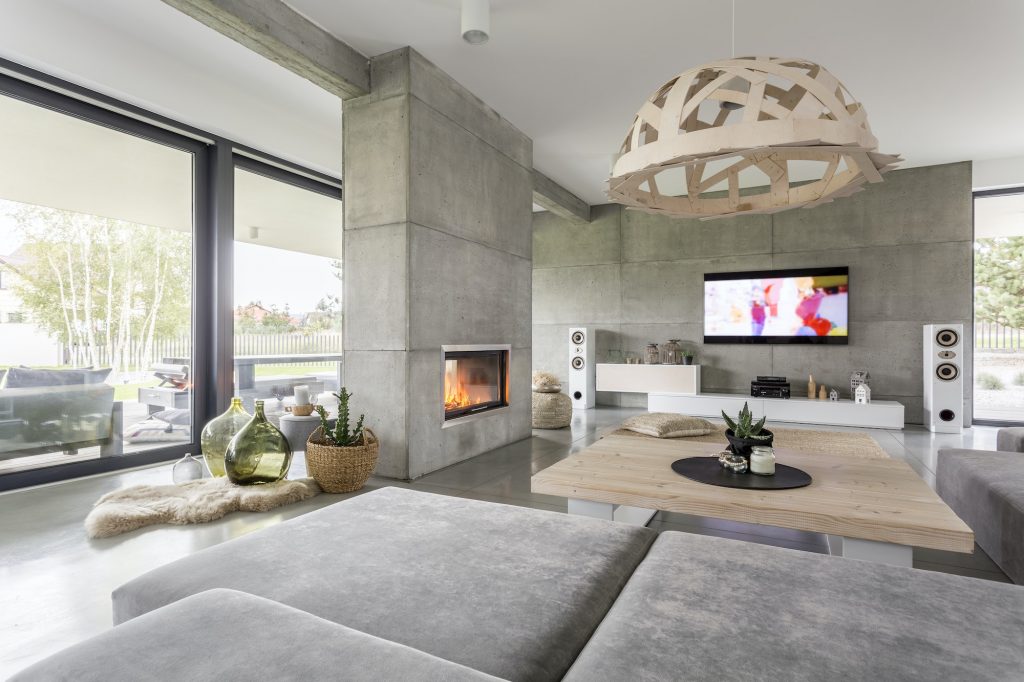 Types of Concrete Fireplaces
There are several types of concrete fireplaces to choose from, each with a distinct look and feel. Some of the most popular options include:
Cast Concrete Fireplaces: These fireplaces are made by pouring concrete into a mold, which creates a unique and customized design.
Precast Concrete Fireplaces: Precast concrete fireplaces are made by casting the concrete in a factory and then transporting it to the site for installation. This is a more efficient and cost-effective option for those who want a concrete fireplace without the hassle of a custom mold.
Stamped Concrete Fireplaces: Stamped concrete fireplaces are a type of cast concrete fireplace that uses a stamped pattern to create a textured surface. This type of fireplace is famous for its ability to mimic the look of other materials, such as stone or brick.
Decorative Concrete Fireplaces: Decorative concrete fireplaces are created by adding decorative elements, such as coloured pigments or aggregates, to the concrete mix. This allows for an even greater degree of customization and creativity.
Inspiring Concrete Fireplace Designs
Concrete fireplaces come in many styles and designs, making finding the perfect option for your home easy. Here are some of the most inspiring concrete fireplace designs we have seen:
Minimalist Concrete Fireplace: A minimalist concrete fireplace is perfect for those who appreciate clean lines and simple shapes. This type of fireplace typically features a sleek, modern design with a neutral colour palette.
Rustic concrete Fireplace: Rustic concrete fireplaces are the perfect choice for those who want to bring a touch of nature into their home. These fireplaces often feature natural elements like wood or stone and have a rugged, organic feel.
Contemporary Concrete Fireplace: Concrete fireplaces are all about clean lines, bold shapes, and cutting-edge design. These fireplaces typically feature a sleek and modern look and are often finished in neutral colours like black, white, or grey.
Industrial Concrete Fireplace: Industrial concrete fireplaces are perfect for those who want to create a loft-like feel in their home. These fireplaces often feature raw, exposed concrete and have a rugged, industrial sense.
Our Plan for the New Build
We have decided to incorporate a cast concrete fireplace into our new build. The fireplace will feature a minimalist design, clean lines and a neutral colour palette. We have chosen this type of fireplace for its durability, versatility, and timeless appeal.
To ensure that our fireplace is as energy-efficient as possible, we plan to include a heat-resistant lining and a blower to circulate the heat throughout the room.
We are also considering adding some decorative elements, such as coloured pigments or aggregates, to give the fireplace a unique and personalized touch.
Overall, we believe a concrete fireplace is a perfect addition to our new build, and we can't wait to see the finished product.
Conclusion
Concrete fireplaces are a stylish and practical addition to any home. Whether you prefer a minimalist design, a rustic look, a contemporary feel, or an industrial aesthetic, a concrete fireplace design suits your needs and style.
Incorporating a concrete fireplace into your home provides a source of warmth and comfort and adds a touch of sophistication and personality to any room.
When planning your concrete fireplace, it is essential to consider factors such as energy efficiency, durability, and customization. With so many different types of concrete fireplaces, you will indeed find the perfect option for your home.
So why not start exploring the world of concrete fireplaces today, and find the perfect design for your new build or renovation project? Whether you are looking for inspiration or practical advice, the world of concrete fireplaces has something to offer everyone.